"One of the most embarrassing things I ever did was…"
 
I have done so many embarrassing things that it was difficult for me to only pick ONE story to tell for this week's Finish The Sentence Friday.  Some of them I am even too embarrassed to share.
As I was trying to decide which memory to share with the world, I realized there is a fine line between embarrassment and humiliation.  There are many times that I have just been absolutely humiliated.  I don't really want to share those stories because they make me sad.
So, probably the funniest, straight up embarrassing story would be "The One About the Dead Sea Soap."
So at the time this story takes place, hubs was still boyfriend and stationed at Camp LeJeune in NC.  I was in a holding pattern waiting to go to Officer Training School to become an Officer in the United States Air Force and passing the time working as a temporary administrative assistant in Columbia, roughly four hours from Camp LeJeune.  The only time we got to spend together was on the weekends and I traveled up to spend them with him.
So, it was only natural that I brought some things to leave up there.
Why I brought this particular soap, I have no idea.  It was given to me by a friend who was selling products for this all natural company, and the flavor of the day was this soap made from the Dead Sea.  And called Dead Sea Soap.  It was supposed to do wonders for your skin.  I never used it.
But it will forever be engrained in my memory.
We were still on our "best behavior" in front of each other.  You know, back when you don't do anything rude.  No belching, no release of any air of any kind that might be offensive.  But obviously, you have to let it out somehow.  As Shrek says "Better out than in!"
So, the mister was doing something in the kitchen and I was putting some things I brought up to leave in the bathroom.  Let's just say, I took Shrek's advice.  And as dumb luck would have it, about that time, the mister appeared at the door.
I panicked.  I didn't know what to do.  I was so embarrassed and didn't want him to smell that and to shatter his image of me as perfect!  (ha ha ha!)
I happened to have the soap in my hand, so rapidly I shoved the bar of soap in his face.
"Smell this!" I practically shouted at him.  "It's Dead Sea soap!"
He took a whiff and his nose wrinkled up.  "That smells disgusting!!"
I could not keep a straight face.  I started giggling, and he asked me what was so funny.  I tried to explain and just kept laughing harder and harder.

Eventually I was able to get the words out to explain to him what had happened, and he began laughing with me.
"I knew that no soap could possibly smell that bad!"
And just like that, our relationship crossed to the next level.  But I still blush thinking about it.  And then I giggle.  Everybody toots, right?? 
Do you have an embarrassing story you want to share?  Or if you just want to keep laughing, come join us at our weekly link up at Finish the Sentence Friday!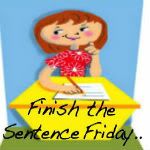 Each click equals one vote for me!

Latest posts by katbiggie (see all)