Tweet
Life got a little crazy and a LOT (more) disorganized when I was put on bedrest at 20 weeks into my pregnancy with the twins.  I spent 32 days in the hospital, lost a baby after two days of life, and had a baby in the NICU for 12 weeks, all while leaving a daddy, a 4 year old, and a 1 year old at home.  Routines went out the window and life got way out of whack!  In a way that I didn't know if I would ever recover from it.
Once the baby was home and we could begin adjusting to our "new normal" I found myself buried under things that had been ignored for months.  And I was overwhelmed. And rather than trying to figure out where to start, I have just continued to let many things go. 
So when I saw Sharon at Mom of 6  post about her Organization Boot Camp, I knew it was something I needed.  I desperately needed to regain control of my chaotic life!
Well friends, I am sticking to it!  Committed and going all the way!  Will I be "Miss Organized" at the end of the month? Probably not!  However, I'll be a lot closer, and a lot saner for it!!  I have thoroughly enjoyed my newly improved and organized Office Space/Command Center from week one, and have managed to keep it nice!!!  You can check out the before and afters of it here.
So week two is all about creating ROUTINES.  This is something I suck at.  Sorry for the language choice, but it is just a fact.  I am all spontaneity all the time!  But this has had to change with having little people who rely on me for their sanity as well. 
As I thought about Sharon's advice and where to begin, one major thought popped in to my mind.  I need to get some kind of routine down for keeping up with my house.  I wind up not getting the housekeeping done and the disorderliness of our house is a constant strain in my marriage. 
My cleaning schedule/routine…  Doesn't exist.  I do things sporadically, as I think of them or do whatever absolutely has to be done.  I start many projects that go unfinished.
So, I wind up with crap everywhere and a big ole mess!
Chasing after three kids, finding time to write, and participating in several organizations takes up a lot of time.  So inevitably what happens is by Saturday I have pushed aside any "good intentions" I might have had about cleaning, and I am left with a dirty house.  And there just is not enough time in one day to really CLEAN, so I spot clean, and certain rooms just get ignored.
Not good.
Even worse when you have a ten month old who is just learning to crawl and manages to find every nasty thing on the floor to put in her mouth.
Also not good when you have a neat freak husband who is going out of his mind because of clutter and messes.
But where do I start???  It's too overwhelming.  Too much.  I'm not sure I even know HOW to enforce the types of routines to allow me to keep up with everything that has to be done!!
I recalled the words one of my favorite Commanders (when I was in the Air Force) who used to say to us when we were overwhelmed with deadlines and work.  She would say "How do you eat an elephant? One bite at a time!"  So true!  It is so much easier to get these tasks done by breaking it down into manageable elements. 
But I still had the problem of getting started.  Sharon offered some great tips, but I needed some help with a plan of action.
What to do about it?  Google once again to the rescue!  I googled "weekly organization and cleaning charts" and found the following terrific website:  Just Mommies.
They actually have tasks broken down into daily, weekly and monthly tasks, and have it planned out exactly what you should do today for your monthly/weekly/daily task.  Nice!  Someone else did the work of establishing my cleaning routine for me!  Sa-WEET!  I love it when I can just implement a plan of action!
And guess what??  "Just Mommies" are so good at this, they even make a nice printable calendar for you that lays out exactly what you are supposed to do each day!!  Click here to get October's!  I immediately printed this out and put it in the center of my refrigerator!
I am really excited about this find, because it was exactly what I wanted to do, but was too overwhelmed to lay it all out for myself!  The site also provides cute printable chore charts, a list of daily "habit forming" activities to do throughout the day, and other tips that are perfect for a person like me!
I love how they break everything down into manageable chunks, and there are even "catch up" days.  And my husband was ecstatic when he got home and I told him my new plan of action!
By Tuesday I had already established a new daily routine.  It goes like this:
Get up.  Get coffee.  Get more coffee!
Get kids ready and to school.
Check the chart to see what needs to be done that day.
Alternate between these tasks and taking care of the baby and toddler, writing, playing, appointments, whatever, so that by the time hubby gets home from work, the list is done and dinner is ready!
And this is working for me.  I am not overwhelmed about what has to be done around the house because I know it is all laid out into my daily routine.
And to prove this works for me, over the past two days I accomplished the following tasks: vacuumed and dusted the entire house, cleaned both bathrooms, cleaned the kids' rooms, changed out all the linen, did the laundry, and cleaned the base boards in all common areas of the house!  And it was done one little piece of nasty elephant bite at a time so it did not feel so overwhelming.
And oddly, I am excited about cleaning! (WHAT??)
AND even better, I still had time to play with my children and write.
And I did THIS:
And I even found time to do THIS:
However, I did NOT exercise.  Still have to make time for that too!
Thanks to Sharon and this Boot Camp, I found a new resource that is sure to help me get my routine down to get my home better organized and to stay on top of the cleaning!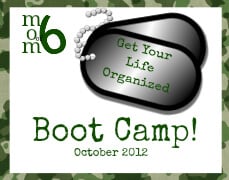 Latest posts by katbiggie (see all)