Hey friends!  Today I am really excited to be blogging about Kathryn, TTTS, and spreading awareness to a whole new audience over at a good friend's blog!
Dana and I have been friends since our wild and crazy single days when we lived in Charleston, SC, back in 2000!  She is a real hoot, and also blogs about an issue near and dear to her heart because her young son has it… VLCADD.  VLCADD (very long chain acyl-CoA dehydrogenase deficiency) is a fatty-acid oxidation disorder (FaOD/FOD), which falls under the spectrum of mitochondrial disorders. 
I hope you'll go check out my post at Really, What Were We Thinking by clicking here (I know she is putting in a picture of us, but I don't know which one!!!)  and while you're there, check out Dana's blog!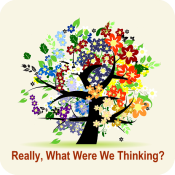 XMDTTZGE3NBS
Alexa B, who blogs as "Kat Biggie" is a wife, mother, and writer. She has three children and one in heaven. She recently self published a book entitled "Sunshine After the Storm: A Survival Guide for the Grieving Mother" which is available on Amazon. She blogs about life after the loss of one of her twin daughters to TTTS, motherhood, all things parenting, advocacy, grief support and social good.
Latest posts by katbiggie (see all)