Yes, I have already posted today. I know. You get a bonus post readers. Doesn't that just rev your engines?
Why the bonus post?
Well, because I'm trying really hard to participate in the 31 Days to a Better Blog challenge through the wonderful site Yeah Write – a site that challenges and encourages writers.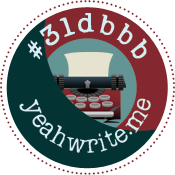 Today is Day 7. So far I have only done one of the post challenges.  I wrote a list post about TTTS for the Day 2 challenge. I did technically participate in Day 3 as well – I promoted that Day 2 TTTS post!
Then, I took a few days off. We're now at Day 7. Come up with 10 ideas for future blog posts using a technique called "mind mapping."
Rather than outlines, mind mapping is a more creative way to really stretch the brain.
If you wanted to see what a map of my mind may look like as it relates to blog posts, here it is in all it's glory. This is a mind map using the titles of my last five posts and brainstorming the future posts that could stem from those.
Kind of disorganized and chaotic. This was only a small portion of where my mind wanted to go. Thankfully for you, dear friends and readers, I am tired tonight!
I'm lucky because my blog covers so many topics. I'm rarely at a loss for things to write about. Each of my last five posts gives me an insane amount of topics to try and cover in this short life! It's a lot for you all to keep up with. God Bless my loyal readers.
However, what I found as I opened up the creative juices was a desire to write about things that were outside of the topic areas in my "map."
As I thought about all the topics I could cover, these are what I found rushing to the front of my mind:
Getting dumped by a friend. I had a close friend one time. At least I thought we were close. Then she just shut me out of her world. Entirely. 10 years later and I am still dumbfounded and hurt. I think about writing about this all the time.
Crying. The good, the bad, the ugly. How everything makes me cry. Happy, sad, mad. Embarrassing moments in which I have just busted out crying.
Messed up relationships between mothers and daughters. Oh, the things I could write about. The pain and craziness that I have seen, witnessed, and experienced. I need an even more anonymous blog to go there!
Life long damage of low self esteem. How never feeling "good enough" caused me to be afraid of so many things. The regrets that come along with never chasing rainbows because I just knew I'd fail. Part two of this – how I'm not going to let history repeat itself with my children.
War stories. I'd love to share some of the adventures I had while deployed to Oman and Qatar. My thrilling combat air drop into Afghanistan, and my two day trip into Iraq. The crazy boss I had who carried around his gas mask everywhere because he was convinced Iran was going to launch a chemical attack on us at any moment. Experiencing life in middle eastern countries. Seems like a different life.
Boring blogging stuff. Oh wait, it's not boring! I am becoming a blogging nerd. I'm really loving learning about the back side of the blog. HTML, coding, SEO tricks and tips, and so much more.
Philanthropy. How we can save the world. Oh my goodness, I am a bleeding heart. There are so many amazing organizations doing so much to change the world every day. I wish I could give to all of them, volunteer for all of them, and adopt every orphan. I wish I could feature and promote all of them. I wish I could make all of you love and support all of them. But for now, if this is something that interests you, I have a friend who already is doing this, with the exception of adopting every orphan in the world. Jennifer at Another Jennifer has a Philanthropy Friday series in which she does what I just described. I have learned so much about so many organizations through her.
32 days strapped to a bed. Sounds somewhat like a Stephen King novel, but in reality, that was my life. 32 miserable days in a hospital bed, waiting to see if my babies would live or die. I kept a journal. I wrote things in there that were emotional and raw and quite frankly, I am afraid to share. But I'd like to one day.
How blogging has made me a better mother. All the things I have learned that have helped me handle my life, children, and being a stay at home mother better through the incredible people I have encountered in this journey. Counter to this, I could write a post about how blogging has made me a worse mother!
Key political issues. I would LOVE to have political discussions, IF I thought they could be done in without getting crazy. But I don't like what I've seen other places (ahem, Facebook) when people try to have a discussion, so this will likely never be a major focus of my posts. Never say never. But I doubt it. I have tried to keep another blog going Democrat or Not? that is dedicated solely to debating political issues, but I just haven't had the time to write there much. Sad, because that was my first true passion. I suppose I could wrap this into my post on damage from low self esteem. There is a link.
So, if you're still awake and with me, you can rest assured that I will not run out of topics any time soon.
Do any of these topics peak an interest with you?
Latest posts by katbiggie (see all)