I had the best of intentions to complete the 31 Days to a Better Blog Challenge through Yeah Write.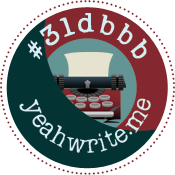 It didn't really happen. I even missed the link up to the final review post.
But, I'm still committed to making my blog as good as it can be.
So, since, as my friend at that cynking feeling reminded me, this is a lot to do well in just a month. So, I'm going to keep plugging away at this effort over time!
Day 1: write an elevator pitch
Day 2: create a list post
Day 3:  promote a blog post
Day 4:  analyze a successful blog in your niche
Day 5:  email a blog reader
Day 6:  make the blog mobile-friendly
Day 7:  come up with 10 post ideas
Day 8:  develop an editorial calendar for our blog
Day 9:  write a link post
Day 10:  set up alerts to monitor what's happening in your community
Day 11:  create a sneeze page
Day 12:  join a forum and start participating
Day 13:  take a trip to the mall
Day 14:  update a key page
Day 15:  leave good comments on other blogs
Day 16:  write an opinion post
Day 17:  watch a first-time reader use your blog
Day 18:  join a blogging community
Day 19:  solve a problem
Day 20:  choose a social media space to focus on
Day 21:  conduct a policy review
Day 22: pay special attention to a reader
Day 23: use a literary magazine to improve the blog
Day 24:  call to action
Day 25:  ask a question
Day 26:  improve someone else's blog
Day 27:  hunt for dead links
Day 28:  develop a plan to boost your blog's profile and readership online
Day 29: monitor your blog stats
Day 30: write a review post
Day 31: plan the next steps
You know what? As I scroll through the list, I realize I actually did do a lot of this stuff this month. I'm already in blogging communities, forums, and I comment on other blogs… I am actually writing a review post write now, that is also planning my next steps!
I will continue to make improvements, and continue to blog about blogging. Because that's what I love to do, and I want to be good at it!
Have you ever done a comprehensive blog analysis or participated in a blog improvement program? If you don't have the time to do it yourself, I highly recommend Alison at Little Love Media. I was extremely pleased with the professional evaluation and all of her tips and suggestions that helped me tremendously!
Finally, I'm always interested in constructive criticism. Is there an element of my blog that drives you nuts? That could be better? Or that you really like?
Latest posts by katbiggie (see all)